About Studio Faggioni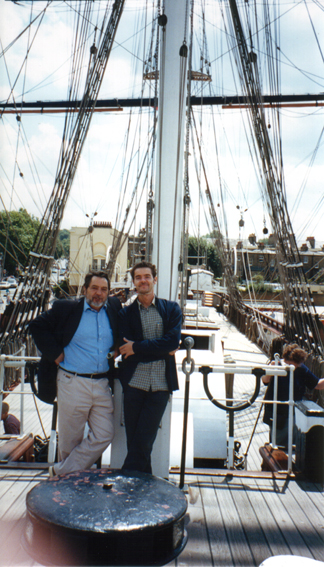 CREATIVE TEAM
ABOUT US
The Faggionis have been in the area of La Spezia for over five centuries. Back in the 18th Century they were already experienced boat builders. Ship building in Cadimare and its surrounding dates back centuries ago. It all began by repairing "navicelli" and, in the early 20th Century, it developed into a more organised way when the very first state property concession of the Gulf of La Spezia was issued to the Faggioni family.
For four generations Studio Faggioni has been involved in naval planning, design and restoration. An experience rooted into the great tradition of the local ship builders and shipwrights whose activities have been fostered right by the physical line ofthe territory since ancient times.
Ugo Faggioni (1937-2000), whose experience was handed down to his son Stefano who, together with his cousin Simone Faggioni, has continued the craft and business he inherited from his father through several projects, was a very well-known naval designer for more than forty years.
From 1995 until his father's premature loss, Stefano actively collaborated in very important projects such as Sud, Marlin and the Bertram series in Miami.
Since 2000 this family business has been successfully carried onthrough some restoration projects of very important classic boats. Beyond such works, Studio Faggioni puts the same spirit, enthusiasm and passion in interior design projects of yachts, houses, mansions and hotels as a natural progression of this family art.
On March 6th 2015 Stefano Faggioni was awarded his first Honorary Master Degree in Naval and Nautical Design by the University of Genoa and the Polytechnic of Milan.
YACHT DESIGN
The idea of restoration in the nautical field takes on a different meaning from the traditional terminology. As a matter of fact, other than a piece of furniture, a painting or a sculpture, an old boat cannot be restored just to be preserved, otherwise she would turn into a museum exhibit! On the contrary, although she is a properwork of art, the boat is conceived to sail.
She is "a fragment taken from the Earth", a living creature exactlyas her passengers, around and for whom she has to be restored keeping her old charm without altering her own nature according to the current demand of space,comfort and safety.
By virtue of this philosophy many boats have come back to life and to sail honouring their very history which they contributed to build. We brought back to life boats that wrote the history of yachting such as Orion, Croce del Sud, Astra, Candida, Yali, Sylvia, Emilia, Mariette, Sakkara (former Dodi), as well as Marlin, the famous 1930 Fast Commuter Yacht belonged to J.F. Kennedy ans many others.
Since 2000 many other important boats have undergone prestigious restorations: Black Swan, Iduna, Magda XIII, Pianosa, Javelin, Deva (former TeVega), Lulworth, the amazing 1920 Big Class Gaff Cutter of which we do wish to underline the extremely delicate work of recovery of the original interiors, Patience, a 1931 Bermudian sloop by Camper & Nicholson and La Spina, the first 12-meter class built in Italy by Baglietto in 1929. In 2009 Stefano Faggioni completed the preliminary project for the entire restoration of USS Williamsburg, the 75-meter M/Y built in 1930 which served two US Presidents, H. Truman and D.D. Eisenhower.
PLANNING AND DESIGN
Planning and design areactivities parallel to restoration. Over the years we have conceived and launched prestigious hulls: from the schooner Ishtar (1992) to the ketch Amira and Barabba (1979); the Multi series (1975), the Clio 81 and 105 series (1982) and the 35-meter motor yachts Sud(1999) whose interiors have been designed with the typical sobriety of a sailing boat but quite uncommon feature on boats of such dimensions.
We have completed projectsof many kinds: a gaff schooner, Gulet type, built entirely of wood in Bodrum,Turkey; ships and military motor patrol vessel as CP254 and CP259for the Italian Navy (1983), as well as other military fast patrol boats for the Venezuelan Navy (1973).
We have joined the realisation of hydrofoils and speedboats such as Guizzo (1993) which belongs to Tirrenia and a very luxury yacht such as the famous 105-metre Lady Moura (1988). Between 1997 and 1998 we have were chosen by the Bertram Yacht of Miami to renew the gamut of their 54, 60 and 73-foot famous Fisherman presented in 1998 at the Miami Boat Show, which were later produced.
In 2005 Studio Faggioni was involved with the styling and interior project of Naumachos 82, a 24-metre Explorer Vessel series built by Cantiere Navale di Pesaro; From 2007 to 2009 Stefano Faggioni designed the whole interior project of two huge yachts (54 and 80 metres) in the Art Deco style.
HOME DESIGN
Since 2009 Studio Faggioni has passed its own experience of yacht design and planning on to home interiors and architecture projects, as a sort of "borrowing" from the luxury yacht world.
Hence, Stefano Faggioni, has been involved in a significant restoration of a 17th Century Mansion in Tuscany located near Lucca and in a complete refitting of an important Resort in Gaeta, named Aeneas'Landing. In 2012 Studio Faggioni started a brand new project for amassive sporting village in Guanacaste (Costa Rica).